2005 Cane Creek Photos

This DHer survived

the rock garden

This poor guy took a tumble

(but bounced back up!)

Rollin' thru the rocks




Photo by Richard Fink

Slippin' and slidin'




Photo by Richard Fink

Cleared for take off

Up, up & away

Let's see...

Where am I gonna land this thing?

Up in the trees

A Sycamore Cycles rider

nears the end of his last lap.

A Hearts rider

takes a tight turn.

Young cross country rider clears the rock garden on Sunday.




Mulberry's Michael Lockhart




Photo by Richard Fink

It's all downhill from here.

Truckin' thru a tight turn

Fractured frame: The course claimed a bike each day




Photo by Jason Bumgarner

BMCC's Brandon Eller back in his old stomping grounds




Photo by Jason Bumgarner

Jim Smalley




Photo by Jason Bumgarner

Phylicia Marion




Photo by Jason Bumgarner

Starting Line




Photo by Jason Bumgarner

Dinner Time




Photo by Jason Bumgarner

Brandon Eller




Photo by Jason Bumgarner

Keith from Sycamore Cycles




Photo by Jason Bumgarner

Saturday's Stiletto winner




Photo by Sam Hutchens




The Youngest DHer




Photo by Richard Fink

"Kirstie Alley size PROPS to you guys!' raves one rider

Cane Creek Cup DH, XC races June 18th-19th "a huge success"
Wilkesboro's Dark Mountain trail system hosted some of the area's top mountain bikers Father's Day weekend.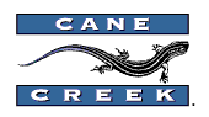 About 150 competitors from across the Carolinas raced in downhill and cross country events as the Brushy Mountain Cyclists Club hosted the sixth stop in the
2005 Cane Creek Cup series
June 18th and 19th, 2005.
The Cane Creek Cup is a series of eleven mountain biking competitions at various venues across North and South Carolina.
Cane Creek Cycling Components
is the series sponsor.
Saturday: Dark Mountain's first ever downhill event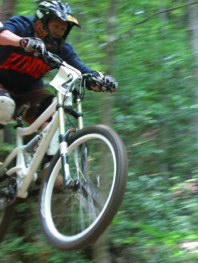 "Saturday's event was a fast paced, heart pounding downhill competition," said Matt Adams, the event coordinator. At one minute intervals, helmeted riders in body armor took off from the top of the ridge. The objective: Barrel their bulky full suspension bikes down the mountain as fast as possible while taking on several mandatory jumps and obstacles.
Wilkes Rescue Squad personnel were stationed at the "rock garden", a rough patch of jagged boulders near the top of the course. Plenty of riders tumbled there, but no one was seriously injured.
"I think I can speak for most people when I say that the rock garden was definitely much harder than anticipated," one rider wrote in an online forum. "Though not long, every rock was placed about perfectly to make it 'interesting'. I loved it."
Each rider took two runs on the downhill course, competing in Pro, Expert, Junior Expert, Sport, Beginner and Junior categories.
The event was the first downhill competition ever held at Dark Mountain. "I think folks were amazed and really enjoyed seeing how extreme and fast DHers can be," Matt said.
Sunday: Cross Country riders take on tough terrain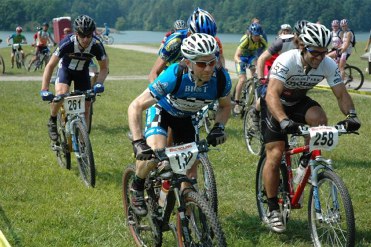 On Sunday, cross country racers took on the tough terrain of the BMCC-built Dark Mountain Trails. They competed in 25 different categories from Beginner to Pro Expert, bracketed by gender, experience and age. They rode anywhere from 6 to 24 miles, depending upon their categories. The course included two tough climbs from the shores of Kerr Scott Lake to the top of Dark Mountain.
The event offered more than $5,500 in prizes. Two Giant Stiletto low-rider bikes were given away. Event results and overall series standings will be posted at the
Cane Cup series website
.
Event "a huge success," Matt says
"The Cane Creek event was a huge success," Matt said. "We would like to thank our sponsors and all the race volunteers. Our club and community really do pull together to make all our events a success, and that was definitely demonstrated this weekend."
Gold level Dark Mountain sponsors were
Kenda Tires
,
BB&T
, Giant Bicycles and Cook's Sporting Goods.
Bronze level Dark Mountain sponsors included Waste Management, Staples, Brushy Mountain Water,
Boone Bike & Touring
, Azonic, Road ID, Biking Buddies,
Mock Orange Bikes
and
Paul's Cycling & Fitness
.
Rider feedback: Let's do it again!
"Overall, we had a good turnout," said BMCC's Jason Bumgarner. "We also got some good recognition and a lot of awesome reviews for our trails."
"Kirstie Alley sized PROPS to you guys!" said Ed, a Raleigh area rider, online. "Loved the venue and everything went off smoothly...Well done!"
"Outstanding!" another rider raved. "(Dark Mountain was) probably the best organized and promoted race I've been to in a long time. Matt and crew, you guys did an excellent job."