2004 RRRR

Morning fog quickly gave way to sunny skies for the 73 cyclists in the third annual Rollin' Round the River Ride Saturday, September 25th. Riders ranging in age from 13 to 73 completed rides of up to 50 miles through the historic upper Yadkin River valley.
2004 Rollin' Round the River Riders
Your feedback is important as we plan the 2005 Rollin' Round the River Ride.
Click here to e-mail BMCC
your comments and suggestions about the 2004 Rollin' Round the River Ride.

The ride raised $1,246 for Wilkes County Special Olympics. Special Olympics parents and coaches staffed the rest stops and start/finish site. Special Olympian Chris Clarida, 25, of Moravian Falls completed the 50-mile route. Chris won a gold medal and two silver medals in the cycling competition at the Special Olympics World Summer Games in Dublin, Ireland in June 2003.
Members of the Brushy Mountain Cyclists Club organized the ride and provided technical support. "All the riders safely finished the ride under their own power," ride director Tim Murphy reported. "Our biggest problem of the day was a flat tire."
The ride was billed as a tour, not a race, with rest stops located at two historic sites.
At Whippoorwill Academy in Ferguson, Edith Carter regaled riders with tales of Daniel Boone and Tom Dula. The facility's schoolhouse, Boone replica cabin, chapel, art gallery and Tom Dula museum were open for riders to see.
At Fort Defiance in Patterson, riders took a trip back in time. A Revolutionary War period reenactment was taking place on the grounds of General William Lenoir's 1792 home.
"Our goal was to stage a cycling event that was friendly, fun and open to everyone, and we think we succeeded," Murphy said. "We had several young riders out with their parents today, including a father and daughter on a tandem bike. Five of our riders were 65 or older and about a third were female."
Ride sponsors included Bank of Granite, Brushy Mountain Water Company, Fort Defiance, Lowe's Foods, Perry Lowe Orchards, Bill Lyons, Wal-Mart of Wilkesboro and Whippoorwill Academy.
2004 Rollin' Round the River Ride Photo Album



Special Olympian Chris Clarida takes his place at the starting line. Chris completed the entire

50-mile route.




Dynamic Duo:

Alise Blair and her dad, Dennis, finished the 50-miler

on their tandem bike.




This was James J. Martin's third Rollin' Round the River Ride.




This colorful crew

is taking a break.




Sisters Donna McNeil

and Kathy Weeks

are ready to roll from Whippoorwill .




All wet:

Rusty Triebert dumped a cup of water on his head to stay cool.




Edith Carter (left) chats with riders at Whippoorwill Academy.




Riders pass an old farm

near Ferguson.




BMCC president Dwight Levi helps Keith Summerford fix a flat tire.




Part of the long and winding road back down the valley.




Morganton Mafia:

Sally Poteat, Dory Barron and Kelly Russell at Fort Defiance




Diane and Chris Rowland and their dog Maggie take care of business at the Fort Defiance rest stop.




April Davis combs cotton during a Revolutionary War era reenactment at Fort Defiance.




Bikers weren't the only ones

in funny headgear

on this ride.




Look of determination:

Gene Self guts it out against a headwind in Caldwell County




The leaders of the pack:

Bruce Watts, Nathan Roberts and Brandon Eller




Walter and Bridgette McLean were another dad-daughter duo on the ride.




A member of the Dawg Dodgers team heads down the valley.




Dale Shelton

makes friends with Maggie,

our greeter at Fort Defiance.




Tough work

but somebody's gotta do it:

Volunteer Barbara Caldwell

No wonder Dan'l was off hunting:

His wife Rebecca raised eight children in a cabin this size.




Thirteen-year-old Bridgette McLean grabs some well deserved rest after a 50-mile ride.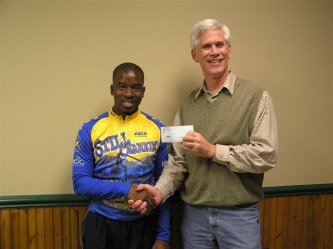 Tim Murphy (right), Rollin' Round the River Ride director, presents a check for $1,246 to Special Olympian Chris Clarida. Chris accepted the check on behalf of Wilkes County Special Olympics.