Join Us

Membership in the Brushy Mountain Cyclists Club is $10 per year. The membership period begins April 1st of each year and runs through March 31st.
BMCC member menefits include:

Monthly e-newsletters with the latest on rides, meetings, special events and social activities


15% discount
on everything except bikes at the
Bicycle Shop of Clemmons

10% discount
on products at
Biking Buddies
in West Jefferson

10% discount
on all accessories except Yakima at
Boone Bike and Touring

10% discount
on cycling accessories at
Cooks
in North Wilkesboro

10% discount
on all accessories except Yakima at
Magic Cycles
in Boone

10% discount
on all clothing and accessories at
Paceline Bicycles
in Winston-Salem

10% discount
on everything except bikes and fitness equipment at
Paul's Cycling and Fitness
in Winston-Salem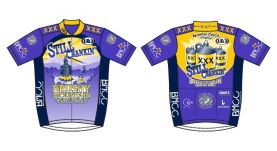 Substantial discounts on exclusive BMCC-design bike wear like our "Still Crankin'" jersey pictured at right.

Members can also list bikes and cycling equipment on our members-only
Trading Post
page.
Your BMCC membership supports:

Mountain bike trail building at W. Kerr Scott Dam & Reservoir

Weekly mountain and road rides for all abilities

Club meetings and cycling clinic

Creation and distribution of a Wilkes County cycling events brochure

Affiliate memberships in the League of American Bicyclists, Cycling USA and the International Mountain Bicycling Association.

Our extensive calendar of cycling events including the RAW (The Rides Around Wilkes), the Burn 24 Hour Challenge mountain bike endurance race, Cane Creek Cup downhill and cross country competitions, the Hurt, Pain and Agony Metric Century to benefit the American Cancer Society, and the Rollin' Round the River Ride to benefit Wilkes County Special Olympics.
The BMCC membership form is a PDF document. If you don't have Adobe Acrobat on your computer,

Or if you prefer, fill in the fields below and hit "send". We'll e-mail you a membership application in Word format.