Rides and Events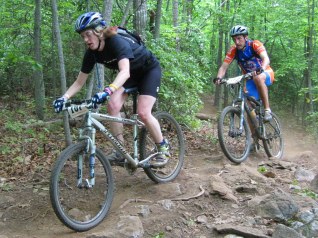 Rides Around Wilkes (RAW)

Hurt, Pain & Agony Metric Century


Rules for ride participants

Please show up early and be
ready to roll
at the starting time.

Be sure your bike is in working order.

Wear an approved bicycle helmet.

Choose rides within your capabilities.

Be prepared with adequate fluid and food.

Ride safely. Obey traffic laws. Let the ride leader or sweeper know if you need help.
Paceline pointers

Point out road hazards for those behind you.

Maintain a steady pace.
Don't
speed up when it's your turn to pull.

Avoid braking. Coast to slow down. Give a hand signal if you must brake.

Ride single file to the right with traffic.

Alternate the lead position regularly.

Call out "car back" when vehicles approach from the rear. (
Especially important as the leader 'rolls out' to the back of the paceline)
Ride leader responsibilities

Arrive at the starting point early.

Be prepared with pump, patch kit, basic first aid supplies.

Greet all riders and brief them on the ride.

Appoint a 'sweeper' who will ride at the pace of the slowest rider.

In case of mechanical or medical difficulty,
do not abandon
a rider. The sweeper should be sure the rider is OK before riding on.

The safety and well being of all riders is your responsibility. If you think someone is in need of help,
ask
. Call or send for medical assistance if needed.

Click here
to check out Jeff McNeal's article on how to lead a ride from the
Dawg Dodgers website.