Greenway Gallery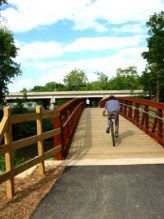 A 156-foot bridge crosses the Reddies River near the Wilkesboro Boulevard bridge over the Yadkin.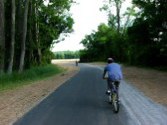 It may not look like it, but you're in the middle of the most urbanized area of Wilkes County.


Dr. Phil Carlson wields the scissors as he and members of the Yadkin River Greenway Council cut the ribbon May 18th. Dr. Tom Frazer, Dr. Larry Bennett, the late Becky Mann and Carlson began the greenway movement in Wilkes in 1994.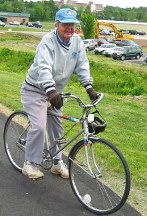 Harold Rockett of Wilkesboro was the first cyclist on the Yadkin River Greenway after the ribbon cutting May 18, 2002.